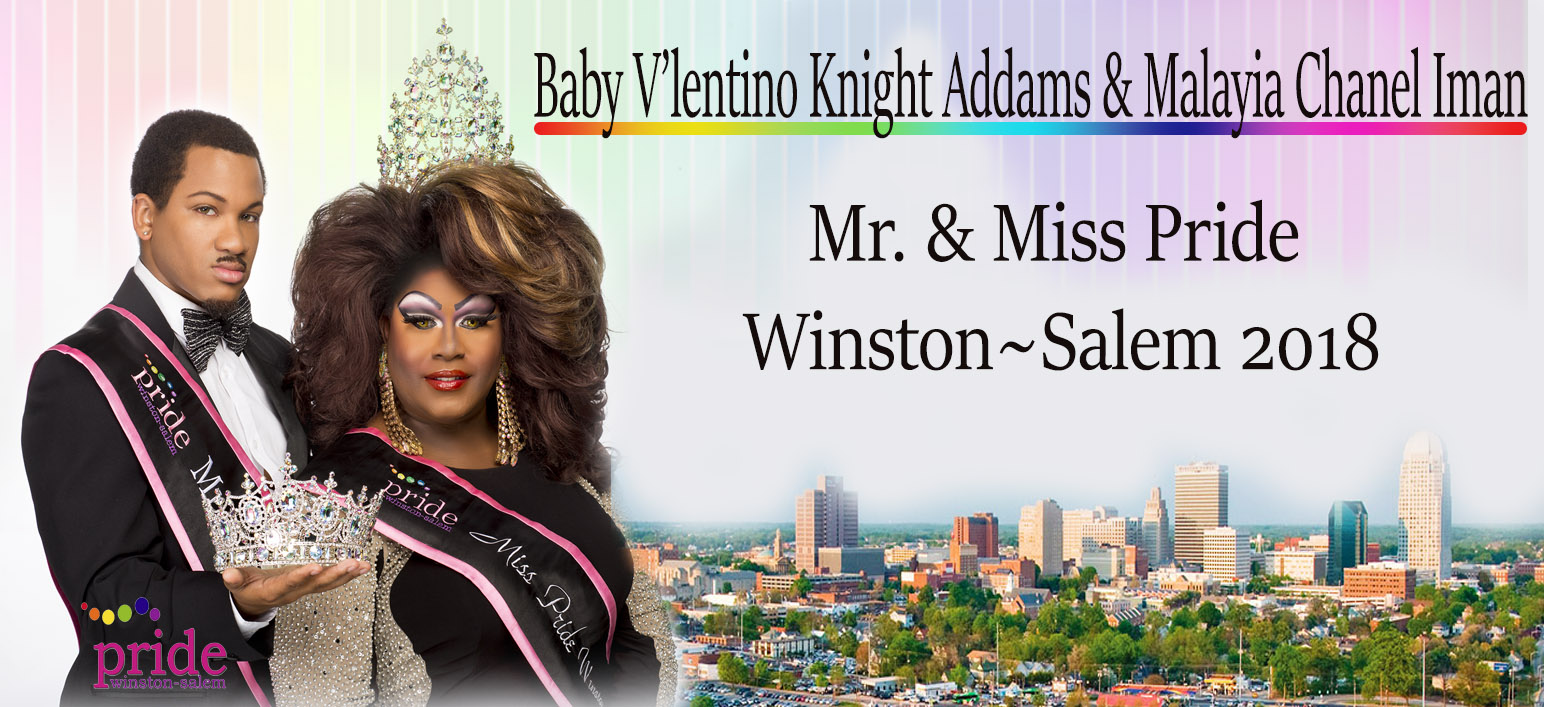 Congratulations to Mr. And Miss Pride Winston Salem
Baby V'lentino Knight Addams-
was born and raised in Charlotte, NC and relocated to the Triad area 6 years ago. With a strong background in the entertainment industry,  Baby has been working 20+ years as a  professional traveling performer, dancer, actor, & choreographer. His roots in pageantry started out with being a backup dancer for club events and pageants, choreographing winning talents for NC pageants and beyond, then worked his way up to becoming a male lead entertainer. He Has 7 pageant titles under his belt, with his first male lead pageant title being Mr. Holiday. He has 9 drag kids and is engaged to the love of his life of 6 years, Mr. DJ Bonet. Alongside dancing for RuPaul's Drag Race Alumni, being employed by places such as Busch Gardens, Carowinds, and Six Flags as a principal dancer in their theatre production shows, being featured in film & television shows such as The Originals, Shots Fired, American Animals, Outcast, The Bobby Brown Story, and more; His dedication to his community, family, & friends is truly one of a kind. Baby is proud to be the 6th Mr. Pride Winston Salem, and will continue to make memories that will last a lifetime & reign beyond the stars. Forever and always, Mr. Pride Winston-Salem 2018 - 2019.
Malayia Chanel Iman
- has been in the artform of female impersonation for 10 years. Malayia is the mother of the Chanel Iman family in which she has 17 children and many grandchildren that call her "Glam-mother." Malayia has made a wonderful mark and continues to have a successful pageant career winning over 50 titles throughout her years. Along with Miss Pride Winston-Salem, Malayia is also Miss Gay NC USofA At Large, Miss Legends, & Miss New Beginnings. She is overjoyed to serve her community and have a wonderful year reigning with her king Baby V'lentino Knight Addams as Mr. & Miss Pride Winston-Salem 2018 - 2019.